A Review from TripAdvisor!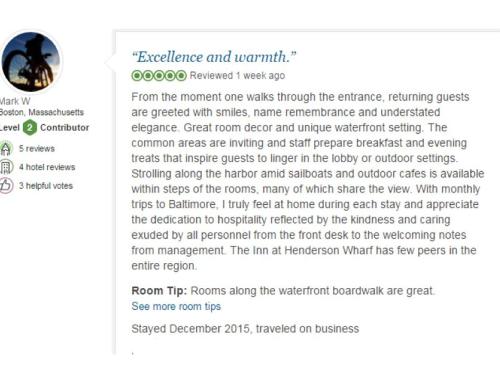 Thank to YOU, that's right, YOU, our guests, we're able to continue to do what we love to do by helping and serving you and making your stay memorable and enjoyable. Each week we'll highlight a review from TripAdvisor and really taking the time to appreciate the honest and thoughful reviews that each of our guests leave.
This week, the review comes from Mark, in Boston MA. He stayed with us in December 2015 on a business trip.
"From the moment one walks through the entrance, returning guests are greeted with smiles, name remembrance and understated elegance. Great room decor and unique waterfront setting. The common areas are inviting and staff prepare breakfast and evening treats that inspire guests to linger in the lobby or outdoor settings. Strolling along the harbor amid sailboats and outdoor cafes is available within steps of the rooms, many of which share the view. With monthly trips to Baltimore, I truly feel at home during each stay and appreciate the dedication to hospitality reflected by the kindness and caring exuded by all personnel from the front desk to the welcoming notes from management. The Inn at Henderson Wharf has few peers in the entire region."
Room Tip: Rooms along the waterfront boardwalk are great.
Thanks Mark for the review!